---
What is Bloodhound?
If you are building your auto-trading system, Bloodhound software is for you! The software is the first of its kind in that it empowers NinjaTrader users with the ability to model, test, analyze and execute auto-trading systems rapidly.  Bloodhound will let you take your knowledge of trading and allow you to put it into practice using the most efficient way possible.  With Bloodhound you can quickly determine the best way to add auto-trading to your overall trading portfolio.
Whether you are learning on your own or with a mentor, it is imperative as a trader to back-test, adapt, and improve any do-it-yourself auto-trading system.  Skipping this crucial step in the system development process puts you at a severe disadvantage.  Until now, the only way to properly backtest an auto-trading strategy was to manually code it in some scripting or programming language. This process can be a very tall order for discretionary traders who have no desire to become software developers.  Bloodhound gives you the power to create a homemade auto-trading system like never before, all without the need to code it yourself.
Trade like a Machine
A computer will never have the creativity or insight of the human brain. However, an auto-trading robot can trade without some of the emotional challenges that come with discretionary human trading.  With a high percentage of overall trades in the market being executed by auto traded systems, having an auto-trading system as part of your trading portfolio can help you remain competitive.  Bloodhound gives you the power to run a machine based trade system without breaking a sweat.  While Bloodhound automatically executes orders in an auto-trading system, you are free to take advantage of the edge gained from a discretionary trading system.
Visual Programming
The core feature of Bloodhound is a unique visual programming UI.  Using sophisticated logic and function nodes, you can create an auto-trading system of arbitrary complexity using only your mouse.  Bloodhound is also amazingly fast, enabling you to prototype, test and analyze auto-trading systems quicker than any professional software developer can. Changes to your system are reflected in real-time. This instantaneous feedback boosts creativity and experimentation giving you the ability to hone your system to perfection without the tedium of the software development process.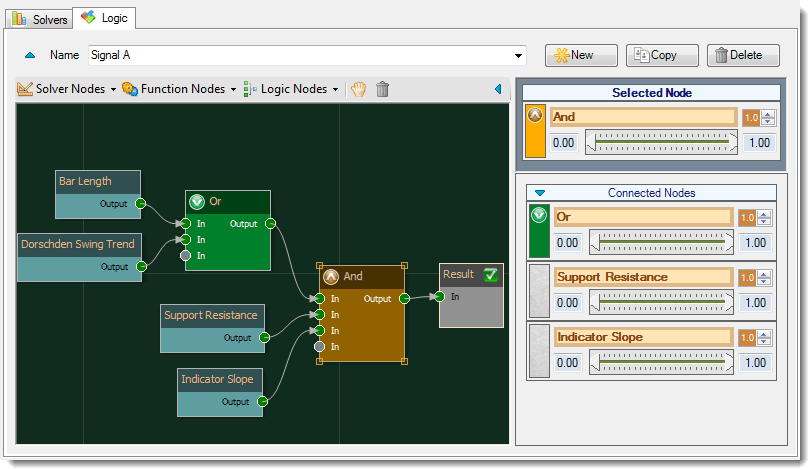 Trade System Criteria
At the heart of every auto-trading system lies a list of criteria for entry and exits. These criteria may be things like indicator behavior, price swing patterns or a host of other chart behavior that you observe as a trader.
Bloodhound supports the ability to:
Inspect indicator slope, cross-over's, inflections, acceleration or comparisons

Examine multiple time frames and different chart types including custom charts

Analyze regression channels and price swing patterns

Integrate the levels from the Ultimate Support and Resistance Suite  

Read data from many other custom indicators in the Indicator Warehouse inventory
Advanced Logic
Bloodhound's logic templating system includes a suite of logical nodes that serve as the construct for your auto-trading system.  By manipulating these atomic blocks, you can create auto-trading systems that are limited only by your imagination.


Fuzzy Logic
Bloodhound uses fuzzy logic to compute its results. Bloodhound does most of this mechanical work behind the scenes, so you don't even have to think about it.
Bloodhound Resources
SharkIndicators provides a library of videos, documentation, support forums and interactive workshops all included with your license of Bloodhound.  They can hand hold you through the analysis, and execution of your auto-trading system development.
Bloodhound and Indicator Warehouse Partnership 
Trading is all about mitigating risk through diversification. Bloodhound can be the perfect compliment a discretionary system, and an integral part of your overall trading portfolio. The partnership of our two companies enables Bloodhound users to a broad range of industry leading trading tools.
Click here to take advantage of the Indicator Warehouse customers only special software bundles and price discounts.